Select a Page
Contact EDA
Take advantage of all the Garden State has to offer. Call 866.534.7789 or click below to have an EDA representative contact you.
Have an EDA Rep Contact You >
New Jersey Founders & Funders
INVESTMENT INSIGHTS FOR NJ INNOVATORS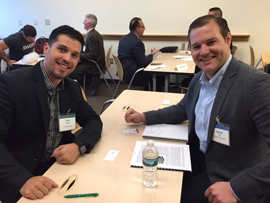 NJ Founders & Funders is organized by the NJEDA to facilitate collaborative discussions between emerging NJ Technology & Life Science(TLS) companies and sophisticated angel & institutional investors. Our mission is to help grow the ecosystem to support innovative NJ companies.

In appreciation of the 200+ companies and 75+ investors who have participated in the program over the last four years, we are proud to present NJ Founders & Funders All- Stars. This special event is the opportunity for all to recognize the more than 1,200 successful connections made through this program, resulting in investment, insight and inspiration to help fuel NJ's TLS ecosystem.



NJ Founders & Funders All Stars Agenda




Selected Entrepreneurs and Investors Session:

Start/End
Description
10:00AM-11:00AM
Registration and Networking
11:00AM-11:15AM
Opening Remarks
11:15AM-12:15PM
1-on-1 Sessions
12:15PM-12:50PM
Networking Lunch
12:50PM-1:45PM
1-on-1 Sessions


General Session:

1:45PM-2:20PM
Network, Registration, Pitch Selection
2:20PM-2:40PM
NJEDA Resource Overview
2:45PM-3:30PM
Entrepreneur Panel
3:35PM-4:20PM
Lightning Pitch Presentations
4:20PM-4:30PM
Audience Voting, Closing Remarks



The event will feature organized one-on-one introductions between selected returning NJ Founders & Funders companies and investors. In addition, we are proud to feature a special entrepreneur speaker panel sharing their insights on fundraising, maximizing the relationship with investors and the path to exit. There will be ample networking among entrepreneurs, investors and members of the broader NJ TLS ecosystem.

All past participant companies are invited to attend, but only 20 will be selected by an outside panel to participate in the one-on-one sessions. The event will be capped-off with lightning presentations by five investor favorite companies selected from those 20 participating in the one-on-one meetings. We are pleased to announce a winner will be selected by audience participation from those five companies to receive a $50,000 award. More information on the award is available reviewing our public board notice here: Notice.

Entrepreneurs, Investors and Industry Partners may register by providing the information below.

Returning companies wishing to participate in one-on-one meetings must submit a 1-2 page executive summary (sample template attached) no later than October 31, 2017. All others must register by November 27, 2017 in order to attend.
Upcoming NJ Founders & Funders Sessions

Date:
December 6, 2017
Time:
Returning Entrepreneurs and Investors Invited: 10:00 am -4: 30 pm
Industry Partners and first time attending companies: 1:45 pm-4: 30 pm
Location:
Biotechnology Development Center: 685 US Highway One, North Brunswick, NJ

SIGN UP BELOW

If you have any questions, please feel free to contact us via email: NJFoundersFunders@njeda.com